Commercial Locksmith Services -
Safe Lock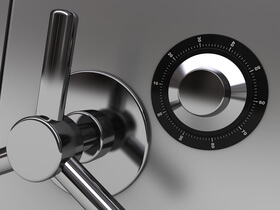 Crack or reset any safe code or combination with specialized tools.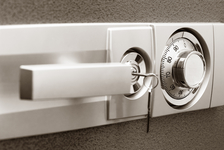 Safe Lock Repair And Replacement For Improved Security
The history of safe locks dates back over 125 years.  You cannot afford to settle for anything less than a safe lock. 
The industry standard for safe locks are known as Group I combinations.  These locks are not only secure, they are also user-friendly and do not rely on batteries to keep your belongings safe.  On top of standard combination safe locks, you can also have another layer of protection known as a key locking dial to safeguard against repeated attempts to brute force and guess the combination. 
Key-based safe locks are much more affordable, but you will be more vulnerable to safe-crackers and malfunction.
Electronic locks are ideal for quick, easy access to your safe, while keeping out unauthorized access by preventing tampering or randomly inputting codes via lockout service.  Most safes only allow 5 incorrect guesses before disabling the keypad for a set number of minutes, usually five or ten minutes at a time. 
A digital safe will contain the same mechanisms as a manual dial-driven safe.  The concept is the same and they still have to trip a level to tumble at a gate and trigger the lock mechanism.  The only difference is that the electronic safe uses a circuit that opens the locking mechanism, while a dial spins into position to hit its trigger.  Convenience is really the only thing that separates the two, and if the locking mechanism happens to fail, you will still have to get it repaired by a locksmith all the same.  Electronic safes will need new batteries on a yearly basis, but it does not affect the safety of the system.
Dials don't have a high rate of failure and rarely need replacement, but you do sacrifice accessibility in a time of crisis or emergency.  It is much faster and easier to retrieve a gun from an electronic safe than it is to spin a dial carefully and quickly when your nerves are shot and your heart is pounding with adrenalin.
Locksmiths at Chiko's Locksmith (chikolocksmith.com) know that being locked out of your own safe is a very frustrating problem.  With years of experience, their locksmiths offer a wide range of services, not just limited to home safes.
If you've locked your keys in your car, broken the key in the lock, or can't get your new key to start, locksmiths at chikolocksmith.com can do a key extractor, reprogram or duplicate the transponder, and offer a complete car lockout service.
When it comes to safes, their locksmiths know all about installing a high-end security system.  They can fix broken locks, lock rekeying, and duplicate keys as needed.  The same goes for high-end commercial security for any business, corporate office, retail store, or warehousing—master key systems, filing cabinets, emergency exits, electronic security, and business lockouts are all covered.