Residential Services -
Lock Repair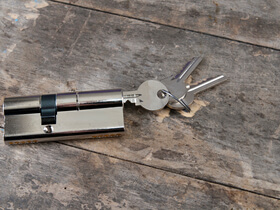 Our experts can and will repair any lock.
Keep Your Safety Intact With the Best Lock Repair Service
Are you in need of a lock repair? We understand how frustrating it is to have a lock problem on your way out. You will have to cancel your plans and call a locksmith. What makes it more unpleasant is waiting for their arrival. But here is the best solution for your locksmith problem.
Common Scenarios When you Need Lock Repair Service
There are plenty of reason why you need your locks repaired. The most common reason is getting locked out of your house or when your key is not working properly. In this case, you will have to find a reliable locksmith who offers house lockout service.
In the case of emergencies, you must always have a trusted locksmith. Most of the times, people don't pay attention and they hire a fraud to resolve their locksmith problem. This is risky because you will be welcoming frauds in your home.
Here are some things you must consider before hiring a locksmith.
Things to Consider When Hiring a Locksmith
When hiring a locksmith you must pay attention to these things:
The first thing you must consider when hiring a locksmith is their experience. The best choice is to hire a locksmith who has years of experience. You can ask the locksmith about their experience. This information is offered to you by the company when you call them. If they don't tell you about their experience, you must move to the next.
Hiring an experienced locksmith is necessary because they will not damage anything. There is no risk of them making any mistake while repairing a lock. They will be able to do their work quickly.
Another thing you must consider is the price. If you are looking for quality service, you will not jump at the first choice. Instead, you will get price quotes from several locksmiths. You just have to match the quote with your budget and choose the one suits your budget best.
Next thing you must pay attention to is the services they offer. A good locksmith will offer you an extensive range of services. They will offer you lock change service for your house and business.
If you face a lockout situation, what should you do? Of course, you must call a locksmith that you trust. They will not only let you in your house or business but will offer rekey service. The best locksmith will be able to work with any type of the lock without any trouble.
Therefore, Chiko's Locksmiths is a leading locksmith company that offers outstanding services. We have experienced and skilled technicians that can handle even the most difficult situations. We at CHikos' Locksmiths provide a wide range of services, from lock change to lock installation.
People think the locksmith services can be performed by anyone but this is not true. This is about your security and safety, not some unimportant house fixing. It is better to call a professional locksmith that must be reliable and trusted. Contact us now for all your lock repair needs.